Our Specials
---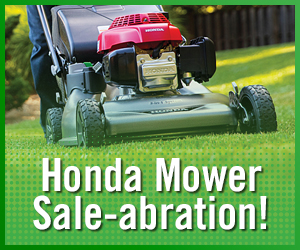 Honda Mower Sale-abration
Receive Instant Savings of UP TO $30* on select new Honda HRR series Lawn Mowers, April 18 - July 17, 2019
---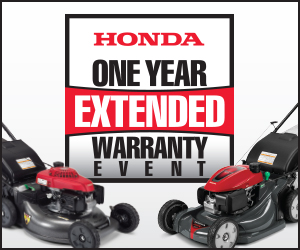 One Year Extended Warranty on All Honda Residential MowersThe Honda One Year Extended Warranty Offer is good on all Honda HRR, HRX, and HRS residential mowers, purchased April 18th through July 17, 2019**.
To qualify, units must be
Register your mower here
---
Special Financing Available
The Honda Power Equipment Credit Card
Up to 36 month special financing options are available with the Honda Power Equipment Credit Card.
Special financing is available at this participating Honda Power Equipment dealer.
Tri-State Battery Honda is now the Midwest's largest your Honda engine Dealer!
Honda small engines = BIG SAVINGS @ Tristate Battery Honda!
We have the perfect Honda small engine for your needs at a great price. Shop from our large selection of vertical and horizontal Honda replacement engines perfect for anything from cement mixers to log splitters. Have an engine that needs servicing? We also have a wide variety of  Honda small engine parts.
WHEN YOU NEED HELP FINDING THE RIGHT HONDA ENGINE contact a Tristatebattery Honda Pro now @ 812-537-2500 or Toll free @ 888.598.3525
But before you do, please have your engine model and engine spec number available. Not sure where to locate engine model and engine spec number please watch this Honda video @ https://www.youtube.com/watch?v=C74aCPeKa7k
Call Us
Store hours are Mon - Fri 9am - 5pm & Sat 9am-12pm CST.
*An Instant Customer Rebate ($20/$30) will be available at participating Honda Lawn Mower Dealers upon retail of qualifying new HRR models (HRR216K9PKA, HRR216K10PKA, HRR216K11PKA, HRR216K9VKA, HRR216K10VKA, HRR216K11VKA, HRR216K9VLA, HRR216K10VLA, HRR216K11VLA, HRR216K9VYA, HRR216K10VYA, or HRR216K11VYA) purchased April 18th through July 17th, 2019.
**Offer good on any new Honda HRS, HRR, and HRX Series lawn mower purchased April 18th through July 17th, 2019. Register your new mower within 30 days after purchase and receive an additional one year to the Honda 3-Year Warranty for HRS and HRR Series or Honda 5-Year Warranty on the HRX Series. Go to powerequipment.honda.com to see warranty details and register your Honda mower.